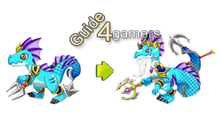 Rarity: 7 stars
Era: Triassic
Habitat: Epic

Buy Price: ??
Sell Price: 80.000
Breeding time: 60 hours
EXP point: 500.000
Ingame Hint:

Complete All Event Goals  in Triassic
Solution
Edit
Finish objectives those tell you to hatch specific dinosaurs first, this way your breeding will be counted to "Hatch 30 Eggs" quest.
| Objectives | Tips |
| --- | --- |
| Collect Full Coins from Habitat 150 times | Simple, no need to build many small beast habitat. Daily check will easily complete this objective. |
| Hatch 30 eggs of any kinds using breeding lab | Use Coleophysis + Coelophysis to have short breeding time. |
| Fill Large Sky Habitat with All Same Sky dinosaurs | Fill it with Preondactylus. |
| Hatch Unicorn | Visit Unicorn page and breed it |
| Feed 10 Dinosaurs to level 10 | You need to have 102.200 food to feed 10 dinosaurs from level 1-10 |
| Hatch No.12 Plesiosaurus 2 Consecutive times | Visit Plesiosaurus Page |
| Hatch No. 4 Gojirasaurus 2 Consecutive times | Visit Gojirasaurus 2 Consecutive times |
How to get: Finish all event Goals before deadline
Ad blocker interference detected!
Wikia is a free-to-use site that makes money from advertising. We have a modified experience for viewers using ad blockers

Wikia is not accessible if you've made further modifications. Remove the custom ad blocker rule(s) and the page will load as expected.